Southwest Florida's Salem Ohio Day 2015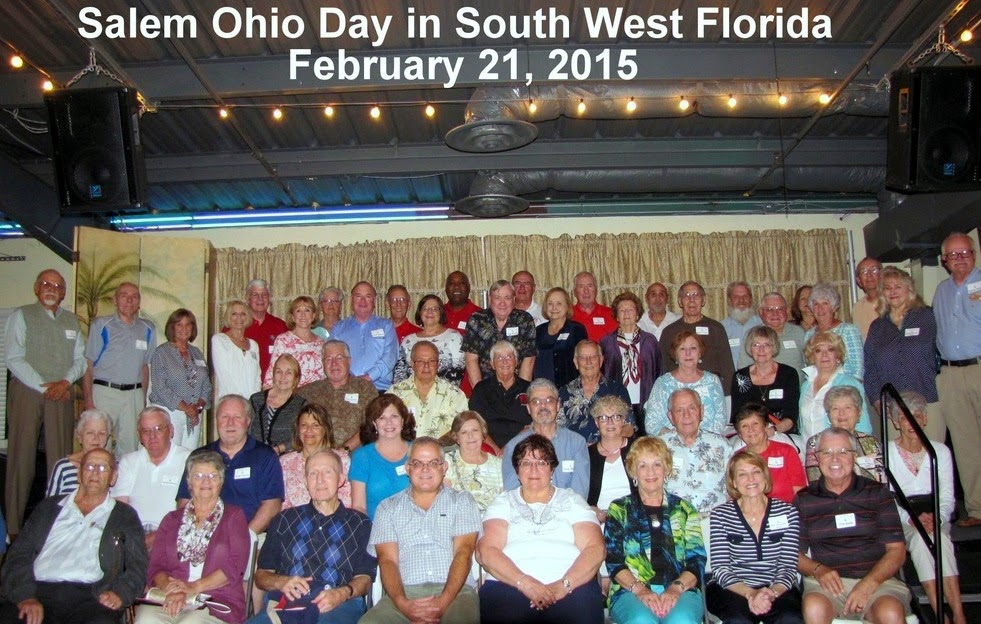 Click HERE for last year's 2014 Gathering
FEBRUARY 21, 2015:
The 9th annual Salem Ohio Day SWFL was celebrated on Saturday, February 21, 2015, at Capt'n Fishbones Restaurant located at The Shell Factory in North Fort Myers, Florida.
The event was again a great success with an all-time high attendance of 147 people, including 87 who were Salem High School (SHS) graduates. It was a special time to meet, greet, reconnect and make new acquaintances with others who share a connection or an interest in the Salem, Ohio area. This year attendees were from many states including some from as far away as California.
After registering at the door and obtaining pre-printed name tags, everyone had time to mix, mingle and socialize while enjoying refreshments from a cash bar and an abundant fruit, cracker and cheese tray that was available before the buffet luncheon. For dessert everyone was treated to cake which was very generously provided by Barbara Citino Hans. There were two large cakes, one a birthday cake as well as a Salem Ohio Day SWFL 2015 cake. The birthday cake was to honor and celebrate the 90th birthday of Robert Citino, Barbara's father. Both Robert and his wife, Donna, were present.
Following the meal, a drawing for door prizes was held and 55 items were given away to 55 lucky ticket holders.
All too quickly, 4:00 p.m. rolled around and it was time for parting goodbyes, last minute exchanges of email addresses, and a group picture of all who could pause long enough from their individual gatherings for a final picture.
Planning for Salem Ohio Day SWFL 2015 began in the fall of 2014 and included the following committee members: Tim and Sue Dean, Joe and Judy Kozar, B.J. and Gary Abrams, Frank and Sherry Barrett, Dan and Nancy Weber. Consulting was provided by: Dick and JoAnn Hary, Ray and Helen Esterly, Sandy Spence and Chuck Cook, Mary Lou and Gary Hartzell. Thanks to EVERYONE who made this event so successful!
Salem Ohio Day SWFL 2016 is tentatively planned for a Saturday in February 2016. Details will be published on the Salem Alumni website and emailed to past participants as soon as they are available.
If you would like to be added to the email list or have comments, suggestions or questions, please contact us at This email address is being protected from spambots. You need JavaScript enabled to view it. (Tim Dean) or This email address is being protected from spambots. You need JavaScript enabled to view it.
For albums of images from past events, click one of these links:
Salem Ohio Day SWFL 2015: https://goo.gl/photos/e132vLLbKd5E5kxj6
Salem Ohio Day SWFL 2014: https://goo.gl/photos/ZoBw6sFehZTe5zto7
Salem Ohio Day SWFL 2013: https://goo.gl/photos/515EdQJD6oN85RFVA
Salem Ohio Day SWFL 2012: https://goo.gl/photos/yCKDSQjGdZ2qMvrC6
Salem Ohio Day SWFL 2009: https://goo.gl/photos/FTTCwxod2N2sr7MU6
Click a image below to download, save, email, or print photograph.