Salem High School Alumni Association Newsletters
Select a newsletter below to view. To search for students, teachers, clubs, and organizations, enter a search term:
These are large files (Adobe PDF) and may take several minutes to download. Free Adobe Reader is required. Click HERE to download if needed.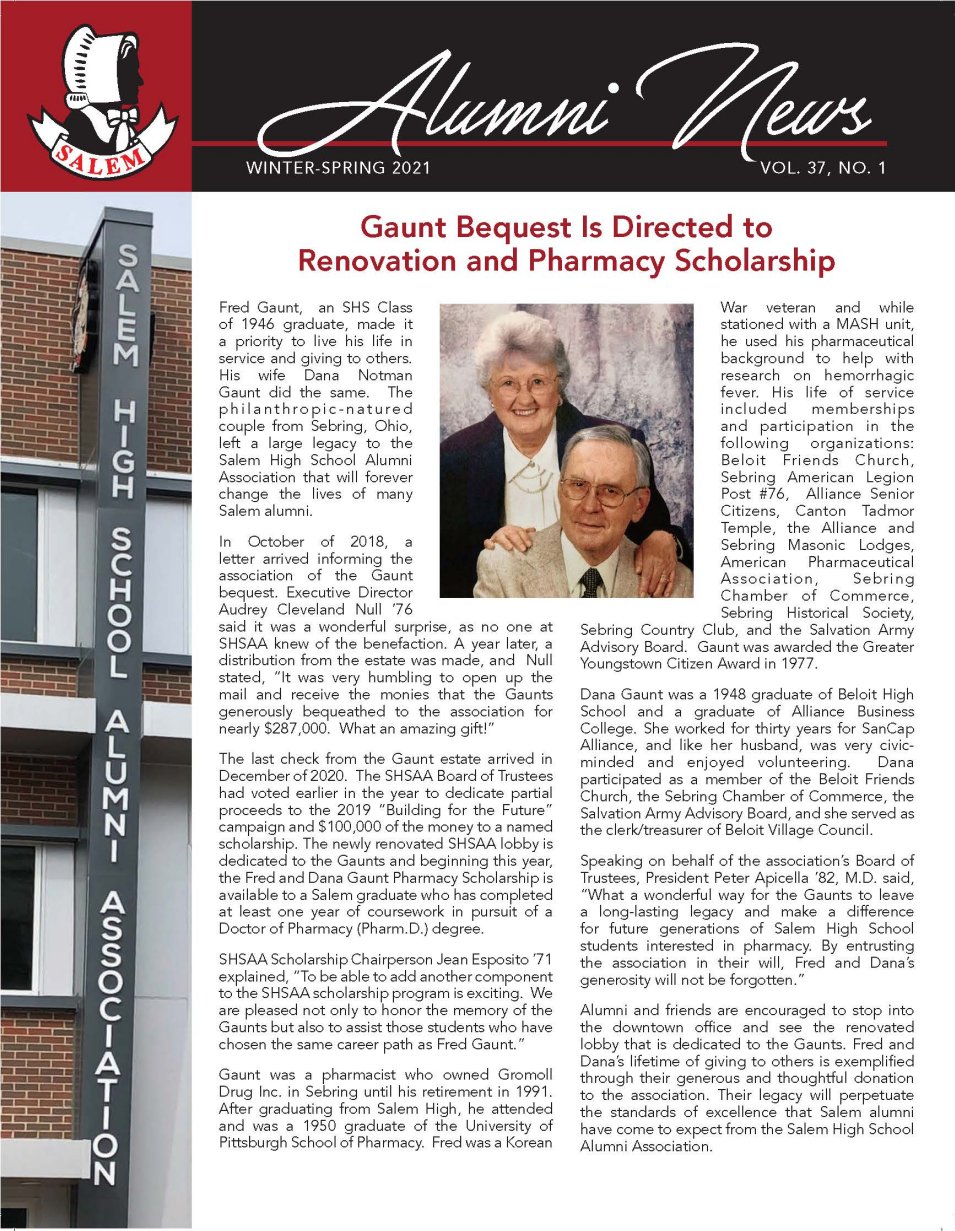 Winter-Spring 2021
Gaunt Bequest Directed to New Pharmacy Scholarship and Renovations
Strattons Donate Additional Funds to Medical School Scholarship
SHS All Class Reunion - Saturday, August 7, 2021
Upcoming Class Reunions and Events
Alumni Notes, Donations, and More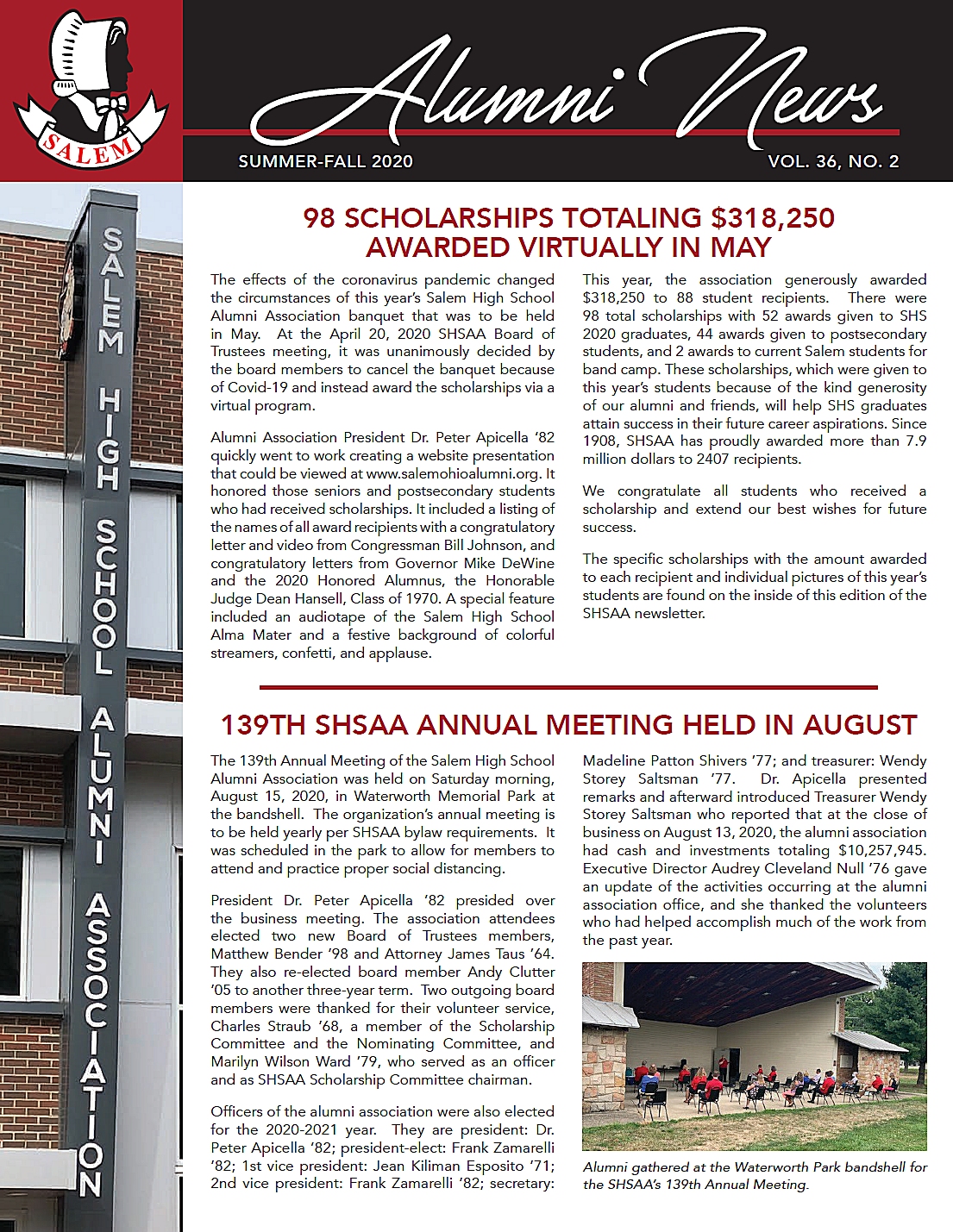 Summer-Fall 2020
$318,250 in scholarships awarded to 88 students via virtual presentation in May
Class of 1977 works toward a Named Scholarship.
Honorable Judge Dean Hansell is 2020 Honored Alumnus
Steve Navoyosky '53 donates Salem Alma Mater memorabilia
Donations received in the first half of 2020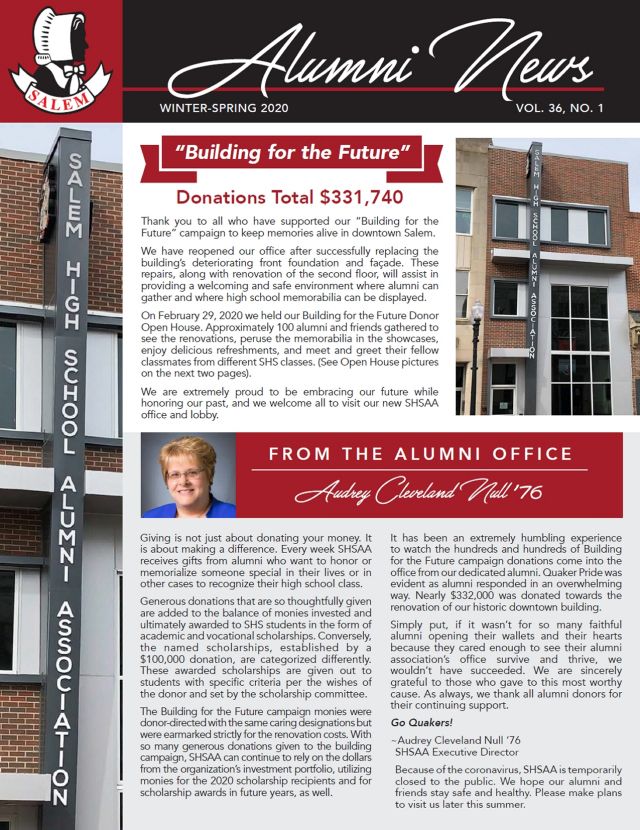 Winter-Spring 2020
Completion of our "Building for the Future Campaign" with highlights of our recent open house
Elizabeth "Betsy" Young Johnson '59 bequest which was devoted to the renovation
New SHSAA recognition societies for our generous donors
Alumni notes and upcoming reunions
Donations received in the second half of 2019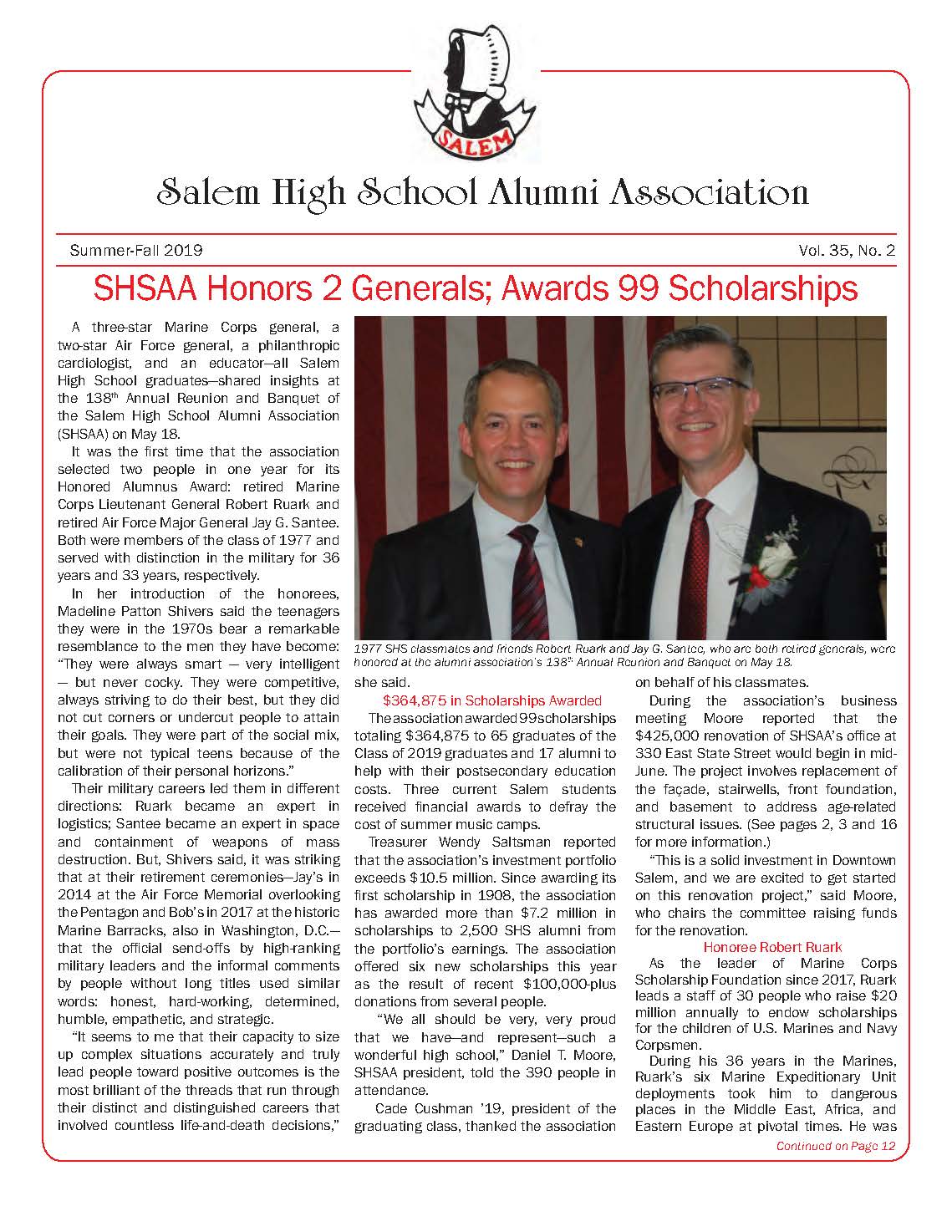 Summer-Fall 2019
Quotes from the speeches of Robert Ruark and Jay G. Santee, 1977 classmates and retired generals, who were the honorees at this year's SHSAA banquet
Information about the replacement of the facade of SHSAA's building in downtown Salem and the ongoing effort to raise $450,000 to cover the renovation costs
Photos of the recipients of 99 scholarships totaling $364,875
Fun times at class reunions and events in 2019
Interesting stories of alumni in the news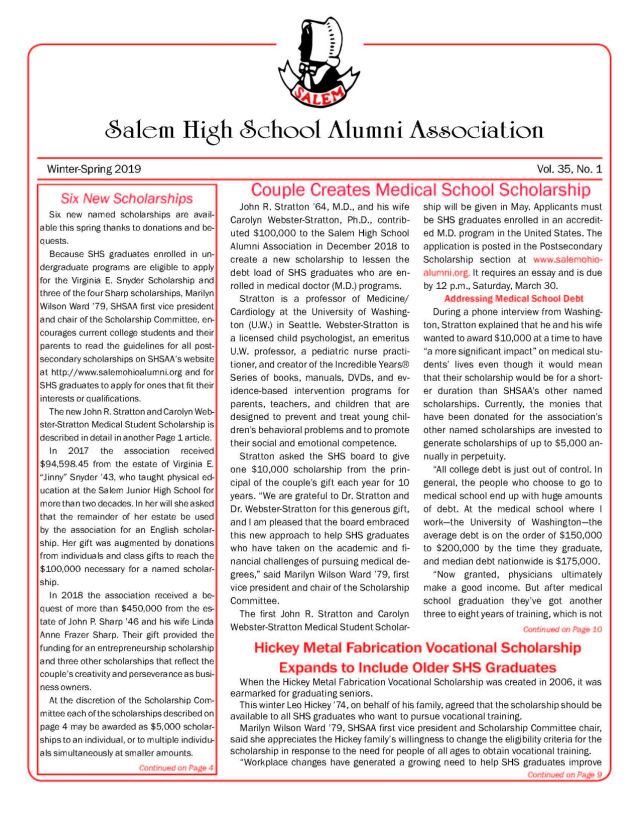 Winter-Spring 2019
The new John R. Stratton and Carolyn Webster-Stratton Medical Student Scholarship
The new Virginia E. Snyder Scholarship and four new John P. Sharp Jr. Scholarships
Expansion of the Hickey Metal Fabrication Vocational Scholarship
Audrey Cleveland Null '76 as the association's first full-time executive director
Fun times at class reunions and events in 2018
Many interesting stories of alumni in the news
Summer-Fall 2018
$450,000 bequest from John P. Sharp '46 and Linda Anne Frazer Sharp that will fund multiple scholarships beginning in 2019
Excerpts of the 2018 Honored Alumnus speech given by Peter Apicella '82, M.D., and information about his career and community service in Salem
Photos of this year's SHSAA scholarship recipients who received a total of $334,860 in scholarships
Members of the Class of 1968, who raised $100,000, sharing in the fun of giving their first $5,000 scholarship for an education major
Fun times at class reunions and events in 2018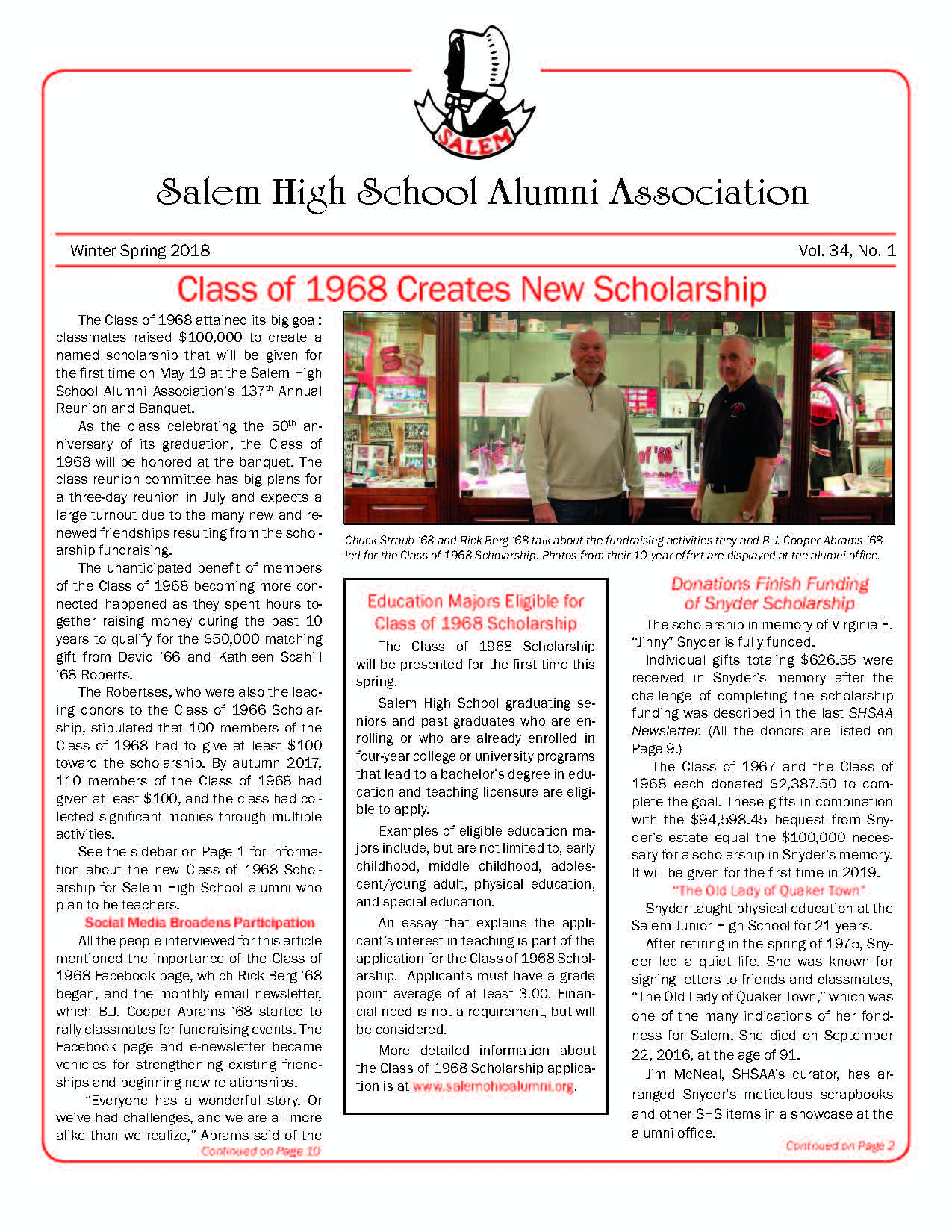 Winter-Spring 2018
The Class of 1968 raises $100,000 for a named scholarship to help SHS grads who plan to become teachers
Winter-Spring 2018
Contributions from two classes and several individuals complete the funding of the scholarship in memory of Virginia E. "Jinny" Snyder '43
David Johnston '07 has a cool job with the Eastern hitch crew for the Budweiser Clydesdales
The leadership of Dan Russell '71 helps residents of Flint, Michigan, to cope with the consequences of lead in the public water supply
Zephyrhills High School honors Tom Fisher '70, the Florida high school's most successful football coach
Fun times at class reunions and events in 2017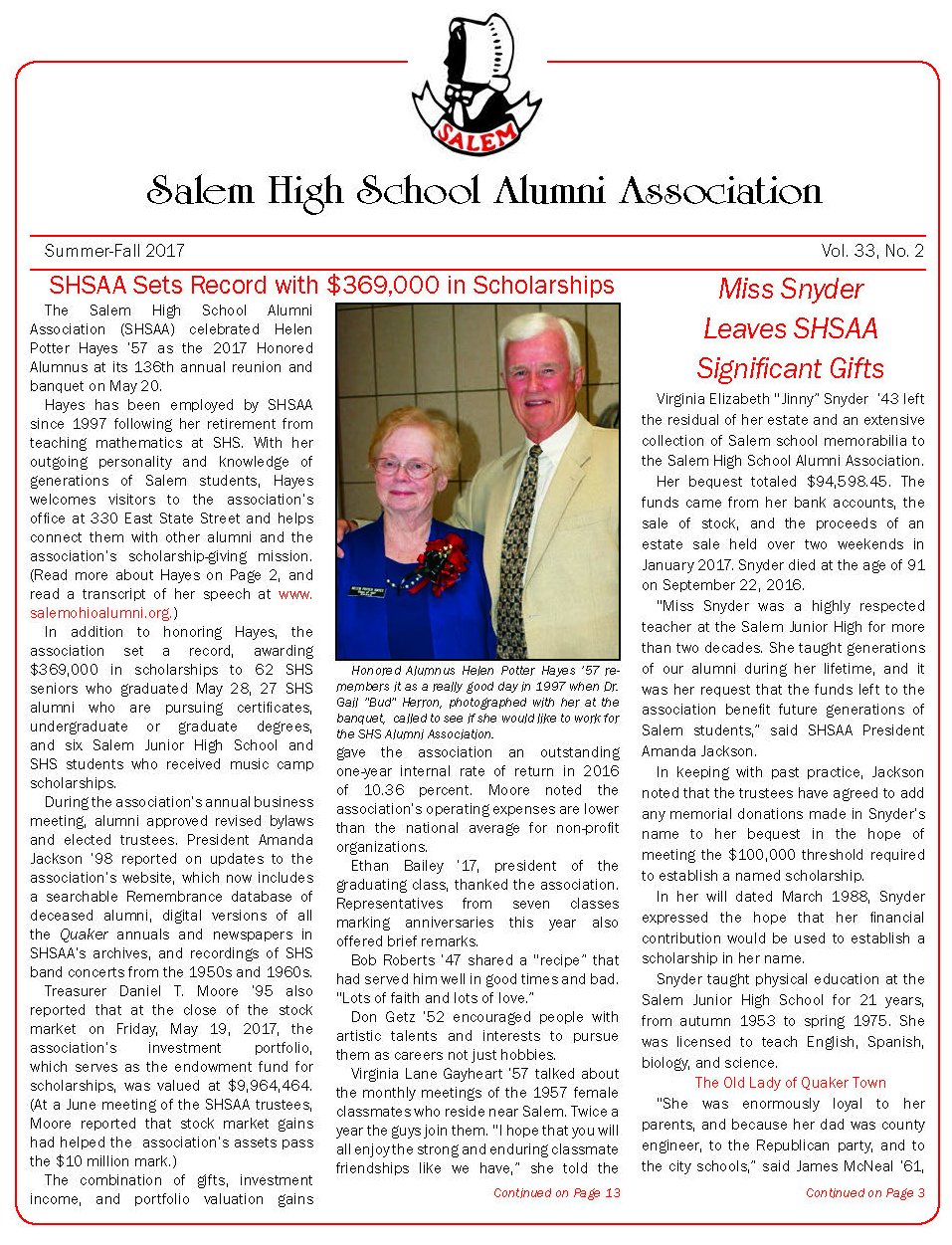 Summer-Fall 2017
Highlights of the 136th Annual Reunion and Banquet
Helen Potter Hayes '57 receives the Honored Alumnus Award - read about the former SHS math teacher and listen to her inspirational speech
$369,000 in scholarships are given to 62 new SHS graduates, 27 SHS alumni, and six current Salem students
Seven alumni representing classes holding reunions this year talk about their classes and offer words of wisdom to the new SHS graduates
Virginia E. "Jinny" Snyder '43, who taught physical education at the Salem Junior High School from 1953 to 1975, bequeathes $94,600
Class Reunions, Gifts, Memorials, Bequests, & Contributions.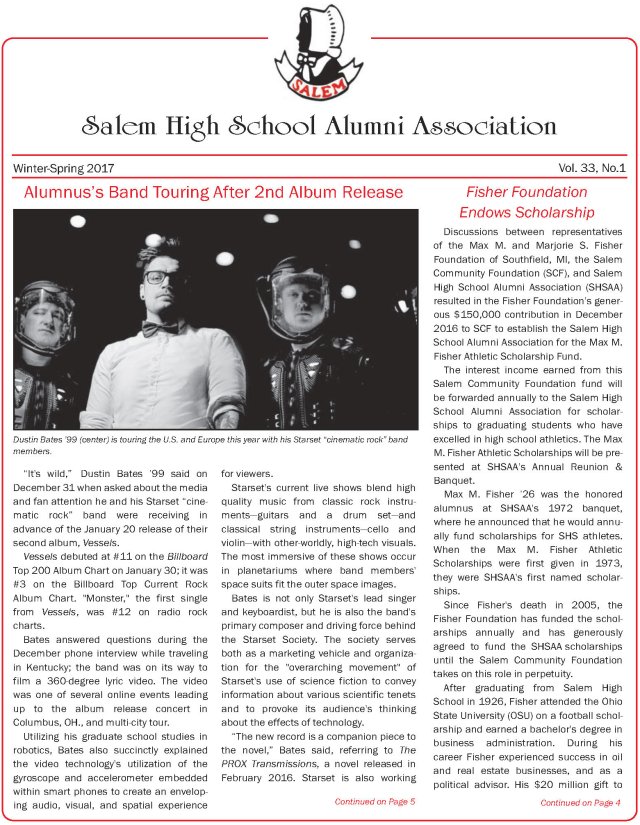 Winter-Spring 2017
Dustin Bates '99, leader of the cinematic rock band Starset, shares the excitement leading up to the release of the band's second album, Vessels
Magician Jason Alan Greenamyer '02 talks about the fun of performing with his wife Stacy, a mentalist, and audience members at their shows
Musical performances of SHS band members in the 1950s and 1960s are ready for new listeners. Lorraine Pardee Bell '61 explains how the concert recordings that she and her brother Howard C. Pardee '56 inherited from their father, longtime SHS Band Director Howard "Doc" Pardee, became a new feature on the alumni association's website for all to enjoy
Class Reunions, Gifts, Memorials, Bequests, & Contributions
Summer-Fall 2016
Photos from the 135th SHSAA Banquet & Reunion
Reflections on the "Miracle of Scholarships" and the "Jumpstart" SHSAA provided this year to 101 students
Accounting of Class of 1966 contributions to their communities
Information about 1946, 1951, and 1975 class reunions
Class Reunions, Gifts, Memorials, Bequests, & Contributions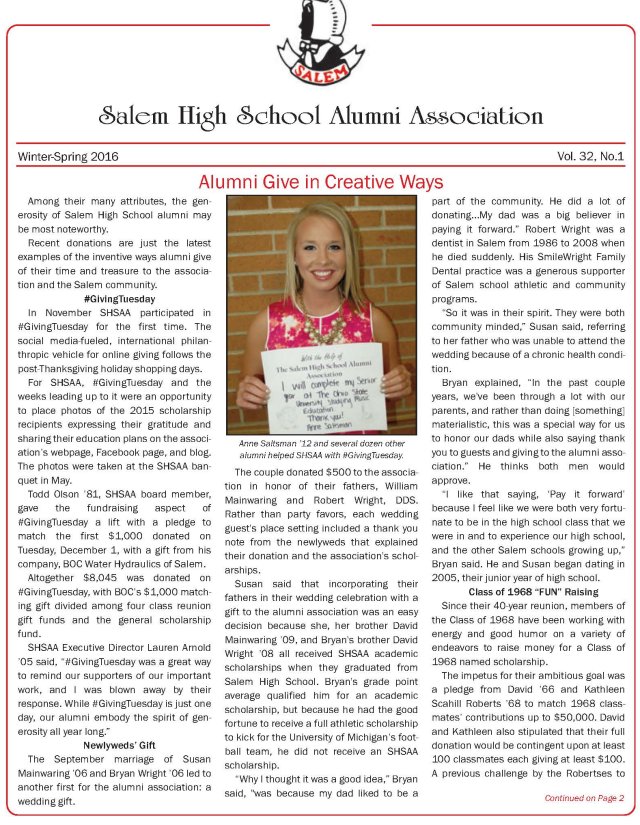 Winter-Spring 2016
Spotlight on Alumni Restaurateurs, Bakers, Chefs, and Cake Decorators - Click HERE to read the Web Extra content.
SHSAA's successful first #GivingTuesday social media campaign
Couple celebrates wedding with gift to SHSAA in honor of fathers
Class of 1968 enhances friendships while "fun-raising" for a new scholarship
Jim McNeal '61 and Aggie Kamasky Tullis '43 share their talents to benefit SHS alumni
Reflections of Ron Johnson, SHS football coach, on the 2015 team's outstanding 10-2 season
Class Reunions, Gifts, Memorials, Bequests, & Contributions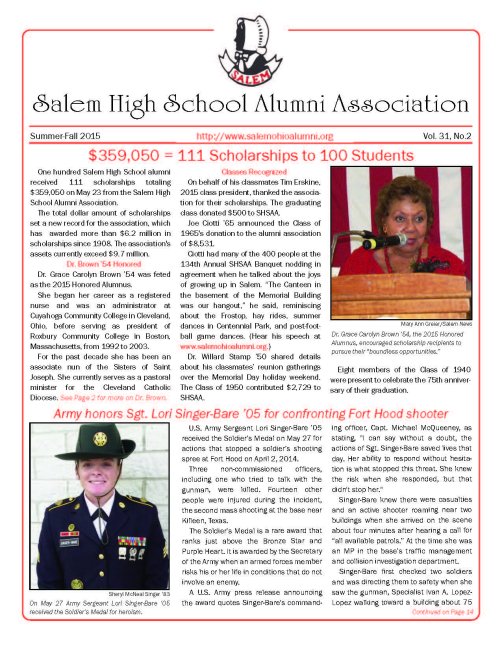 Summer-Fall 2015
2015 - 134th Annual Banquet: 111 Scholarships to 100 Students = $359,050
Army honors Sgt. Lori Singer-Bare '05 for confronting Fort Hood shooter
Dr. Brown: Go with confidence & help others
SHSAA Executive Director Lauren Arnold '05 explains new post
Class Reunions, Gifts, Memorials, Bequests, & Contributions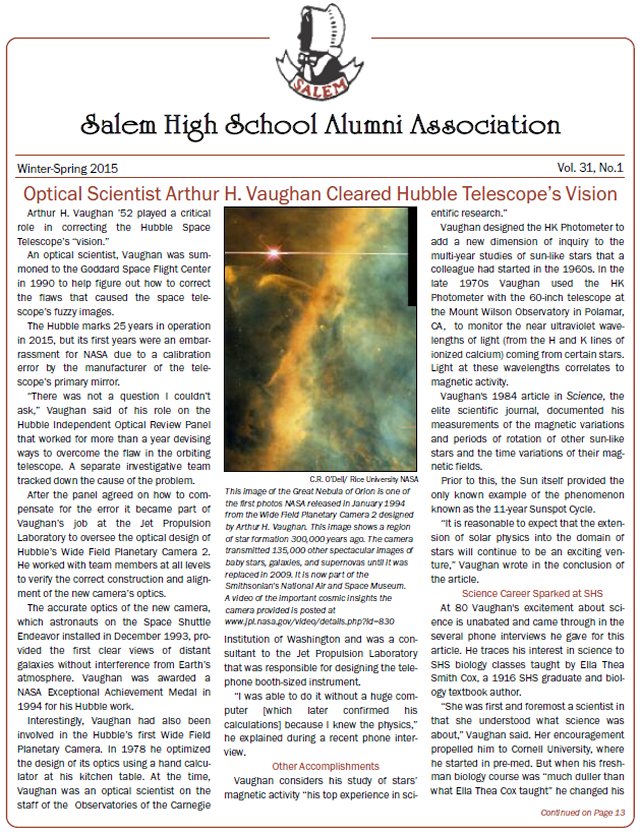 Winter-Spring 2015
Opical Scientist Arthur H. Vaughan '52 Cleared Hubble Telescope's Vision - Click HERE to read the Web Extra content.
Spotlight on alumni artists - Click HERE to read the Web Extra content.
Jerry Meals '79 umpires the 2014 World Series - Click HERE to read the Web Extra content.
Tillie Hurray Tolson '33 shares memories of girls basketball in the 1930's.
Class Reunions, Gifts, Memorials, Bequests, & Contributions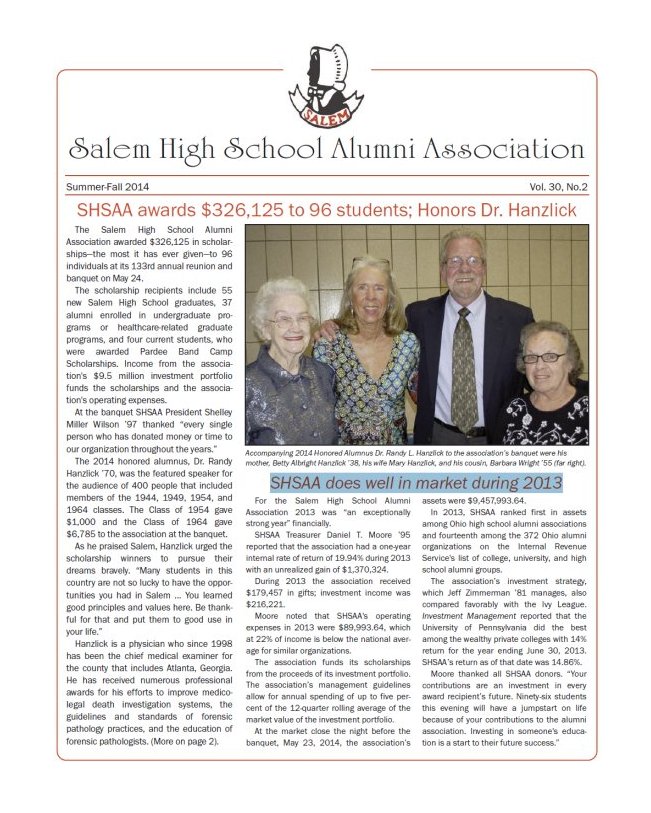 Summer-Fall 2014
133rd Annual Banquet: $326,125 awarded to 96 individuals
Dr. Randy Hanzlick '70, the 2014 SHSAA Honored Alumnus - Click HERE to read more.
Association's "exceptionally strong year" financially
Class Reunions, Gifts, Memorials, Bequests, & Contributions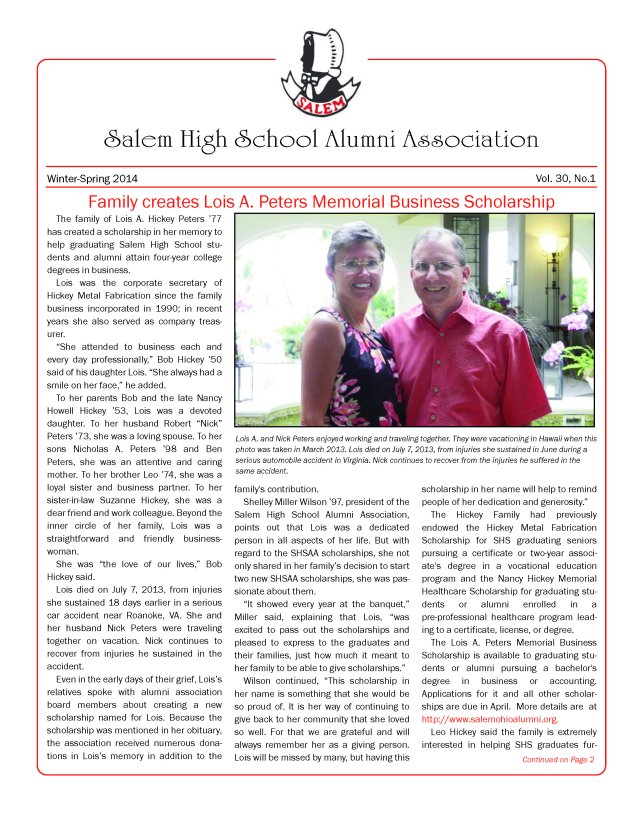 Winter-Spring 2014
Family creates Lois A. Peters '77 Memorial Business Scholarship
Jack B. Lozier '48 leaves large bequest.
Robert J. Ruark '77 promoted to Lieutenant General.
Class Reunions, Gifts, Memorials, Bequests, & Contributions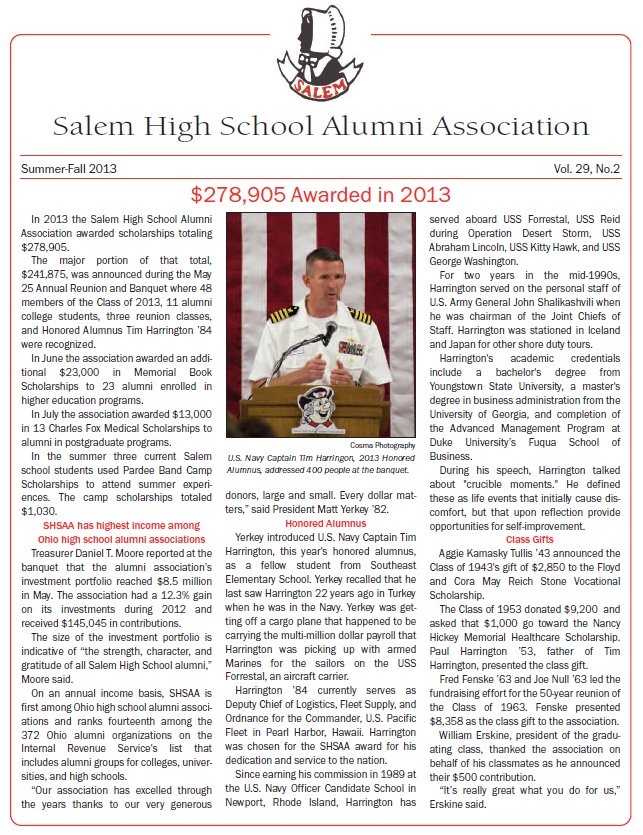 Summer-Fall 2013
2013 - 132nd Annual Banquet
$278,905 in Scholarships Awarded to 101 students
US Navy Captain Tim Harrington '84 named Honored Alumnus. Click HERE to read more
Anthony Shivers Wins State Discus Championship, again, and two other SHS Athletes Medal at State
$46,183 Donated from Jan 1 - Jun 30, 2013
Class Reunions, Gifts, Memorials, Bequests, & Contributions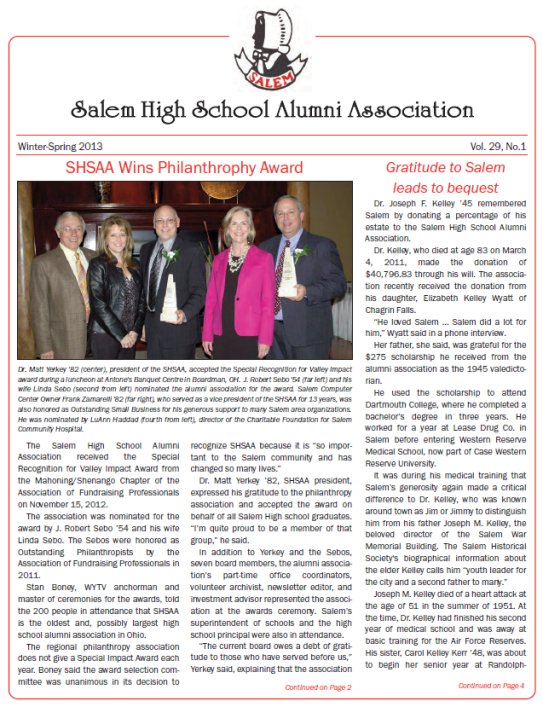 Winter-Spring 2013
Salem High School Alumni Association wins Valley Impact Award for philanthrophy
Bequest from Dr. Joseph F. Kelley '45 Adds to Book Scholarships
Melissa Conn '83 Monitors Art Restoration in Venice, Italy
Major General Jay G. Santee '77 Receives France's Legion of Honor Medal
$78,597.41 Donated from July 1 - December 31, 2012
Class Reunions, Gifts, Memorials, Bequests, & Contributions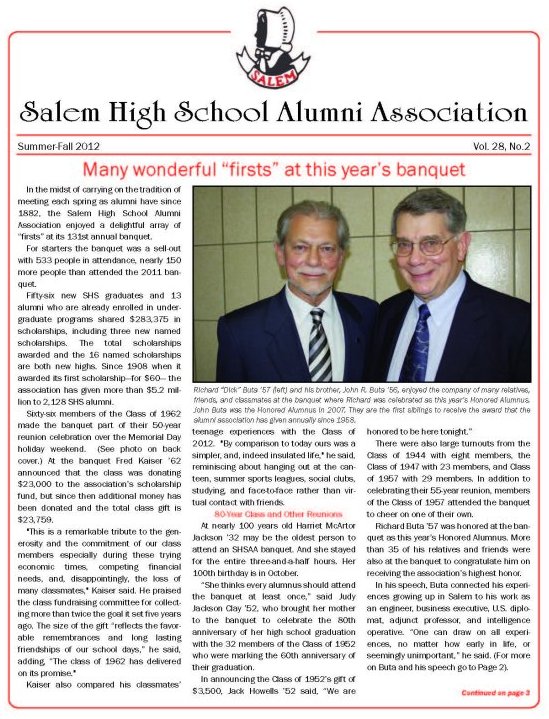 Summer-Fall 2012
2012 - 131st Annual Banquet
$283,375 Scholarships Awarded to 66 Students
Richard "Dick" Buta '57 named Honored Alumnus. Click HERE to read his speech
Centenarian Harriet McArtor Jackson '32 Attends
$67,898.75 Donated from Jan 1 - Jun 30, 2012
Class Reunions, Gifts, Memorials, Bequests, & Contributions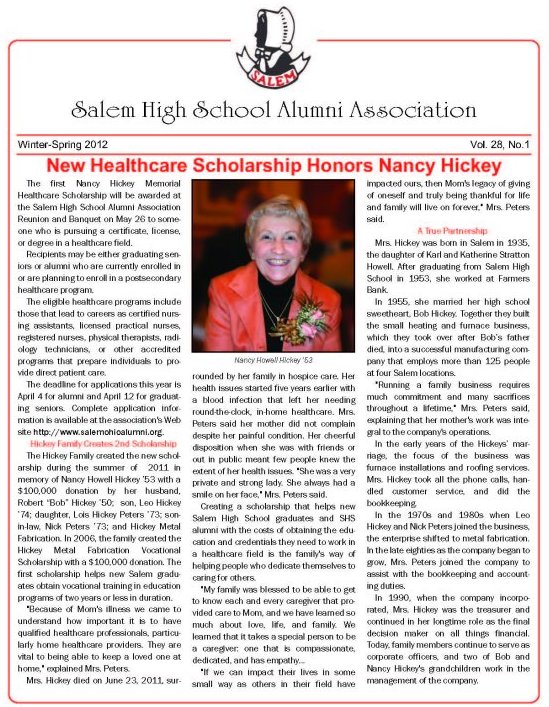 Winter-Spring 2012
Nancy Hickey Healthcare Scholarship Announced
Nina J. Cone & Stephen F. Cone College Music Scholarship Announced
College Memorial Book Scholarship Announced
Scholarship Repayment Gladly Received
$372,964.79 Donated from Jul 1 - Dec. 31, 2011
Class Reunions, Gifts, Memorials, Bequests, and Contribution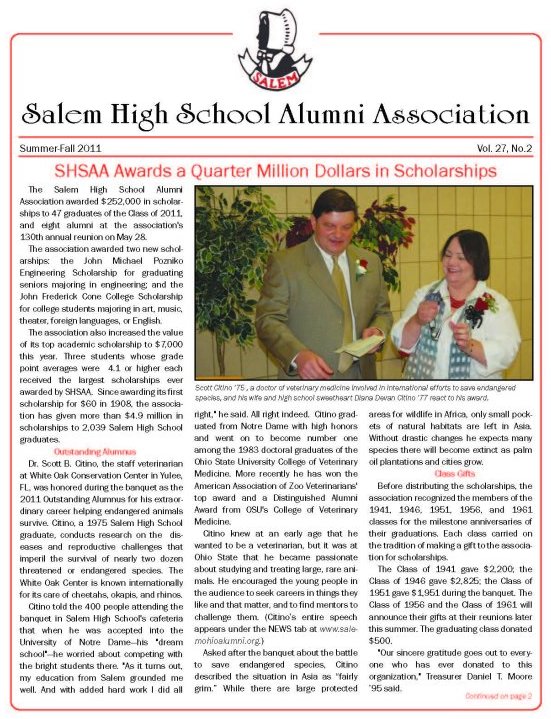 Summer-Fall 2011
2011 - 130th Annual Banquet
$252,000 Scholarships Awarded to 55 Students
Dr. Scott Citino '75 Named Honored Alumnus. Click HERE to read his speech
Dr. John F. Cone College Scholarship Announced
Class Coordinators Keep Their Classmates Connected
Alumni Association Open House
$94,609.23 Donated Jan 1 - Jun 30, 2011
Class Reunions, Gifts, Memorials, Bequests, and Contributions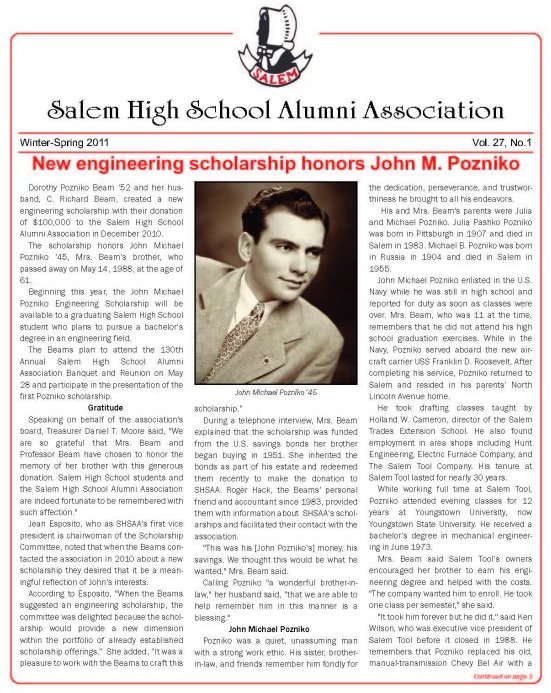 Winter-Spring 2011
John Pozniko Engineering Scholarship Announced
Joyce Ehrhart Honored for 30 years of Service
$137,794.88 Donated from Jul 1 - Dec 31, 2010
Class Reunions, Gifts, Memorials, Bequests, and Contribution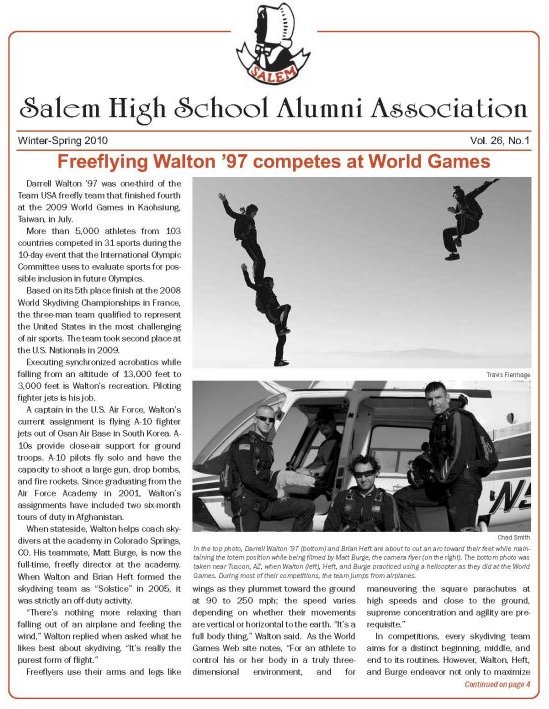 Winter-Spring 2010 (26:1)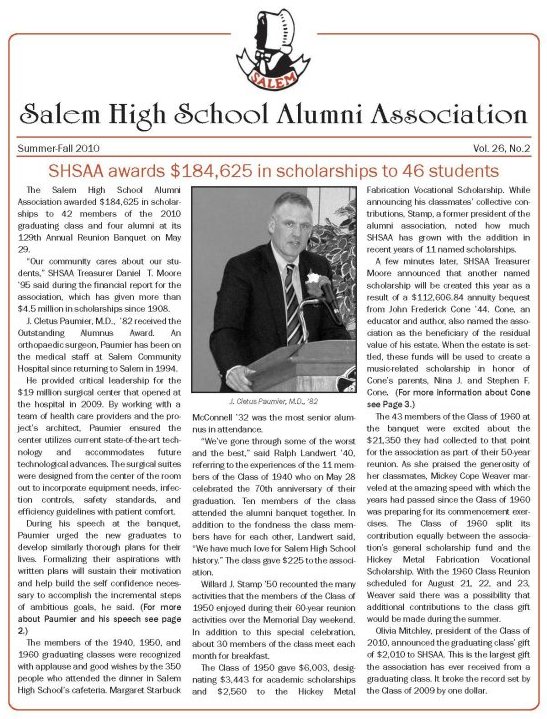 Summer-Fall 2010 (26:2)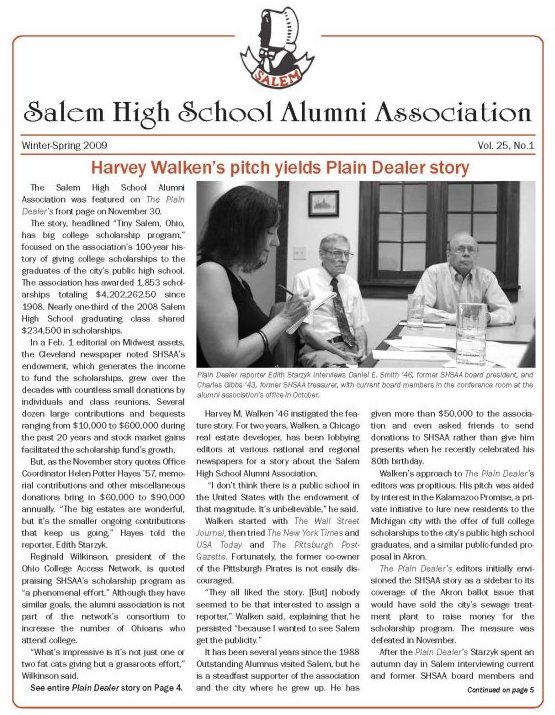 Winter-Spring 2009 (25:1)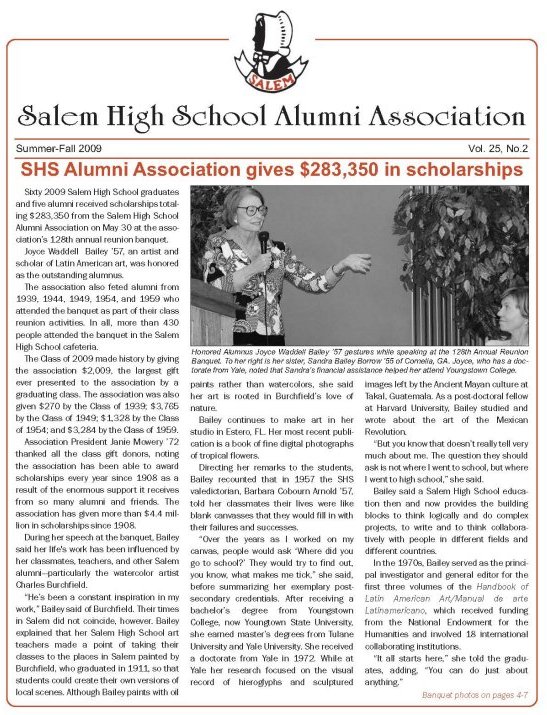 Summer-Fall 2009(25:2)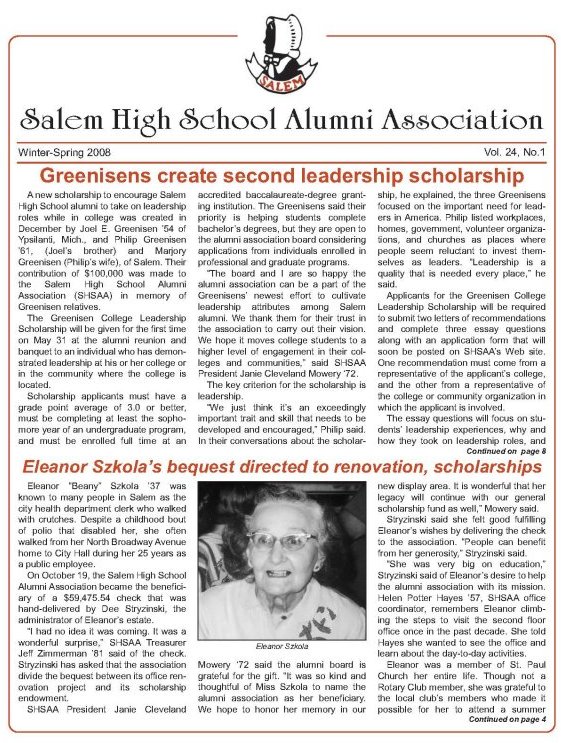 Winter-Spring 2008 (24:1)
Summer-Fall 2008 (24:2)
Winter-Spring 2007 (23:1)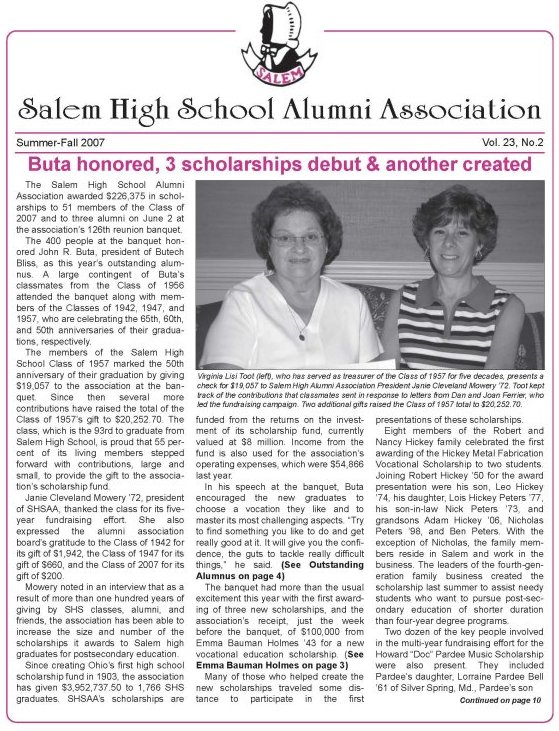 Summer-Fall 2007 (23:2)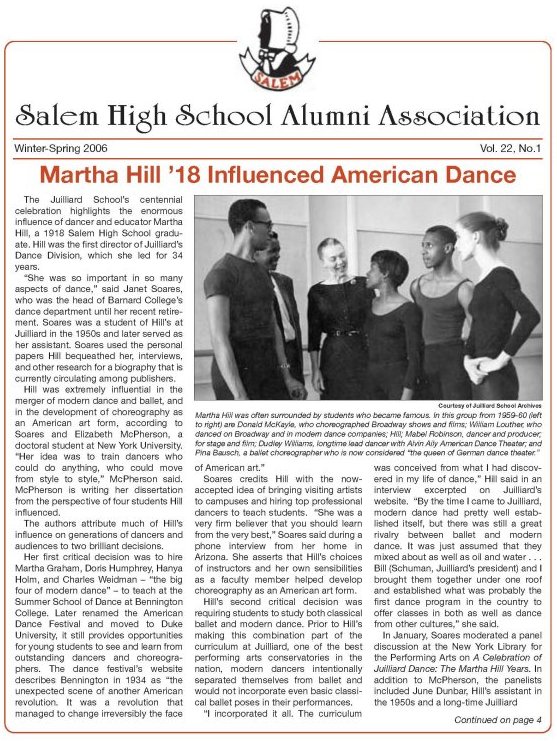 Winter-Spring 2006 (22:1)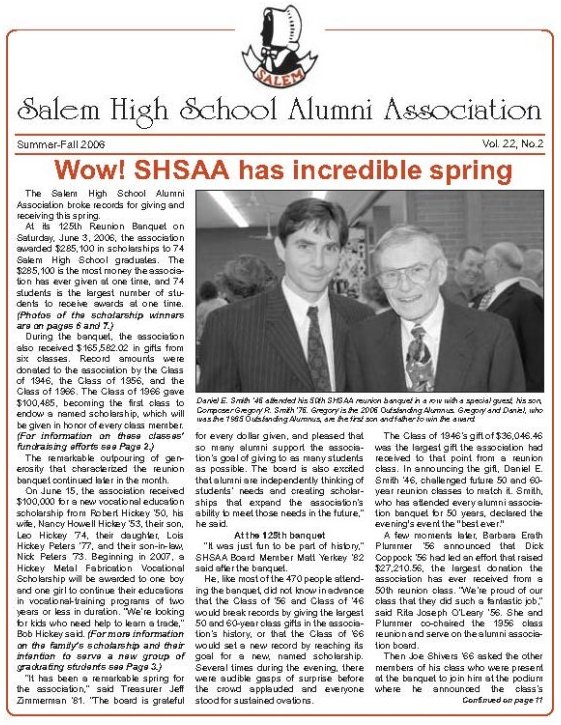 Summer-Fall 2006 (22:2)
Winter-Spring 2005 (21:1)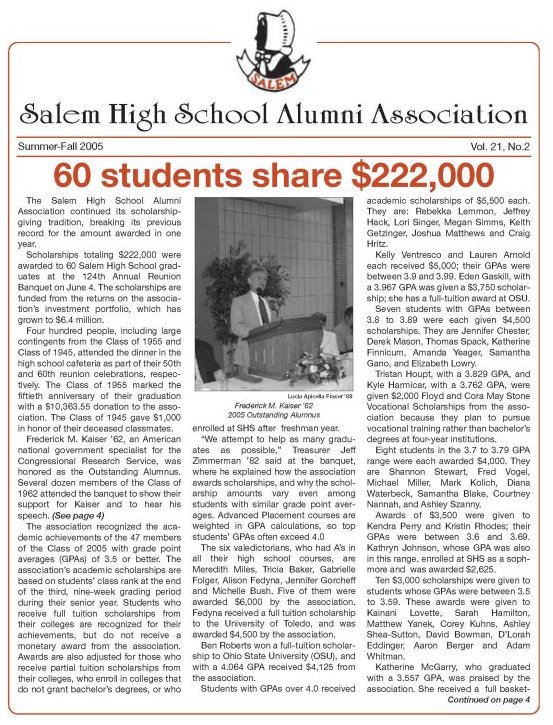 Summer-Fall 2005 (21:2)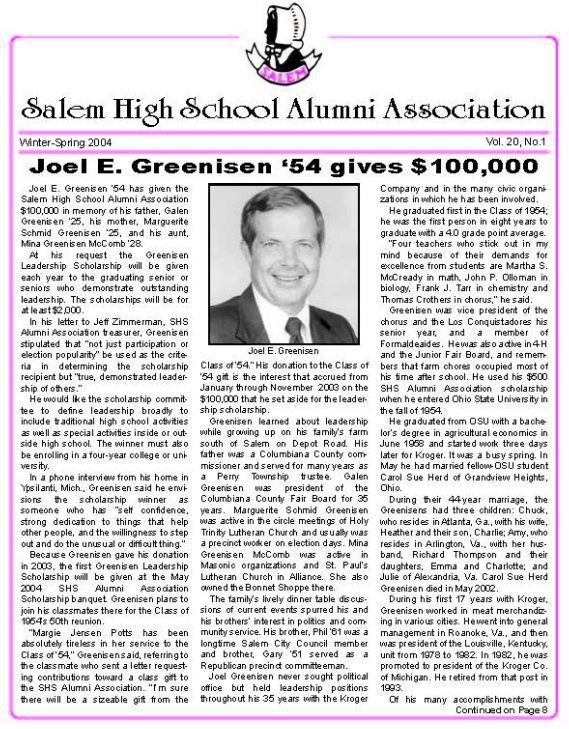 Winter-Spring 2004 (20:1)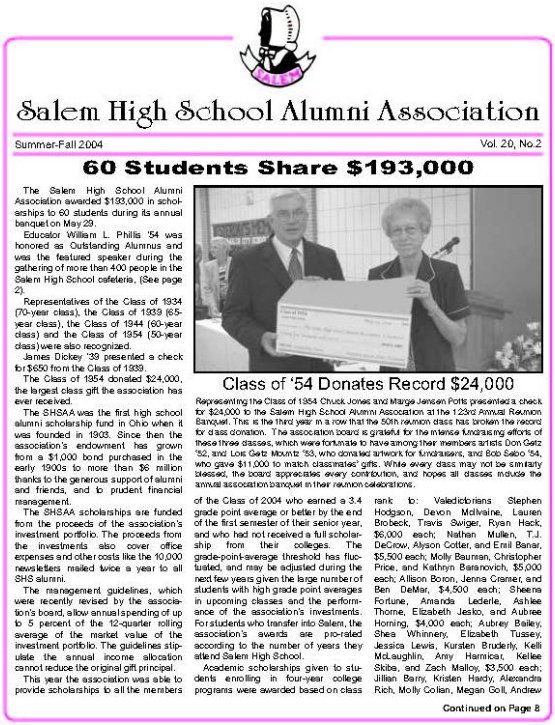 Summer-Fall 2004 (20:2)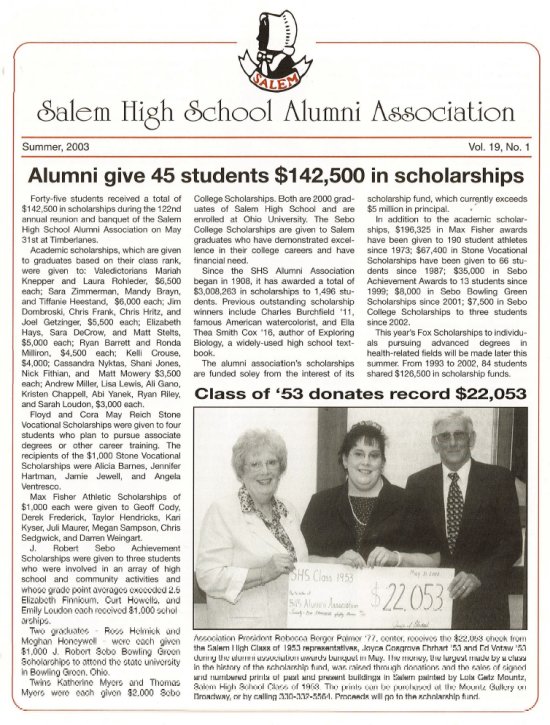 Summer 2003 (19:1)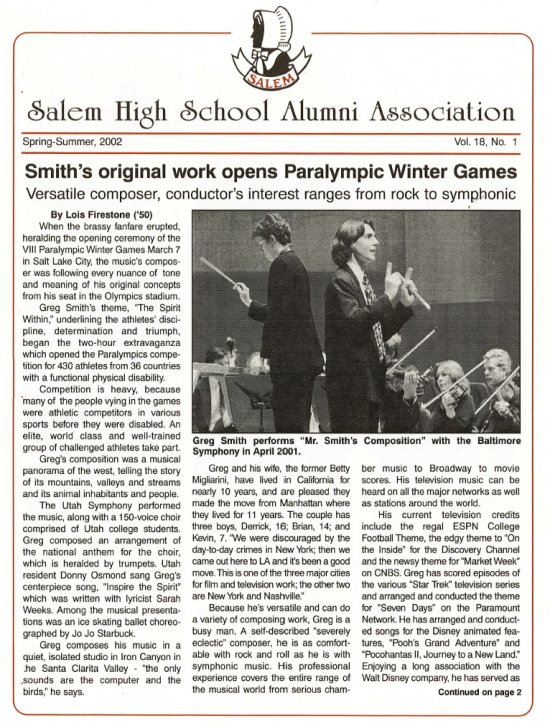 Winter-Spring 2002 (18:1)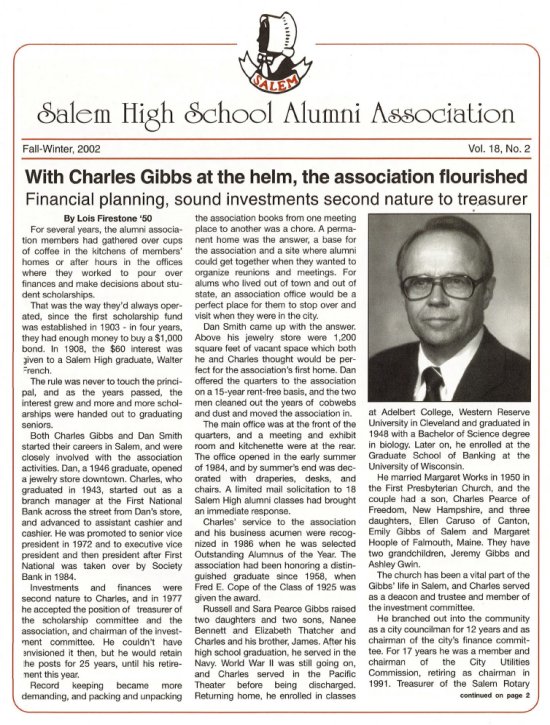 Summer-Fall 2002 (18:2)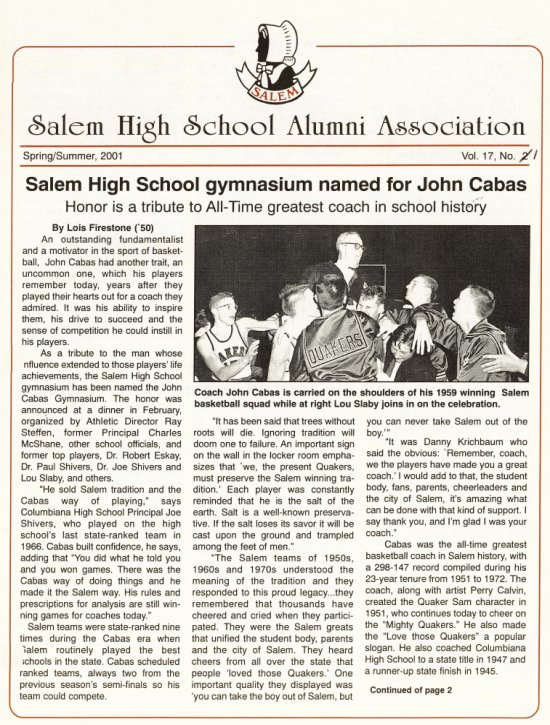 Winter-Spring 2001 (17:1)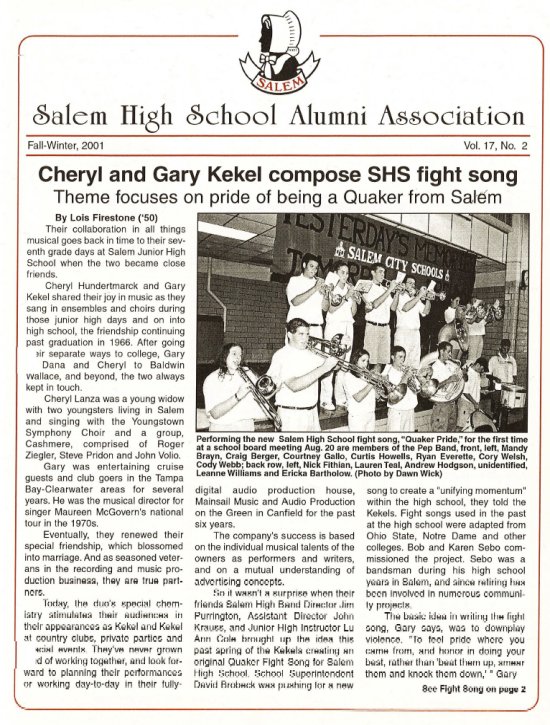 Summer-Fall 2001 (17:2)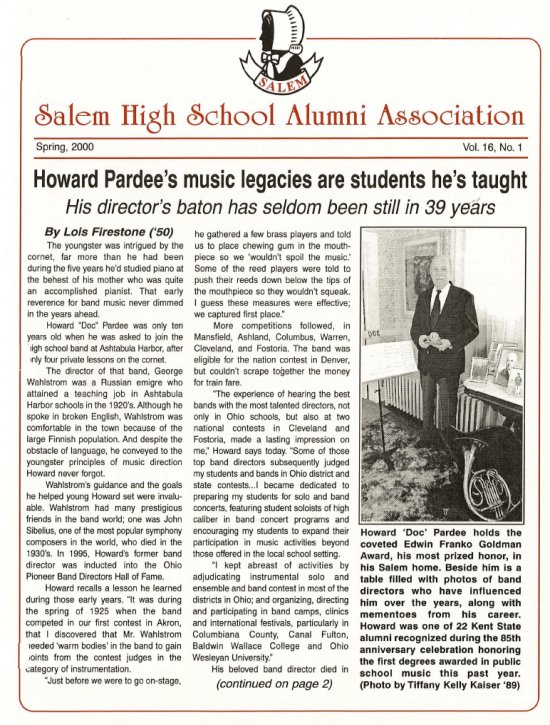 Spring 2000 (16:1)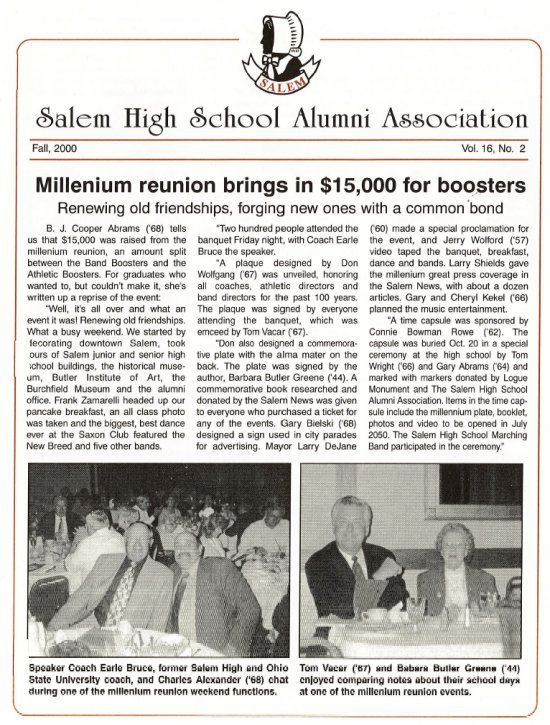 Fall 2000 (16:2)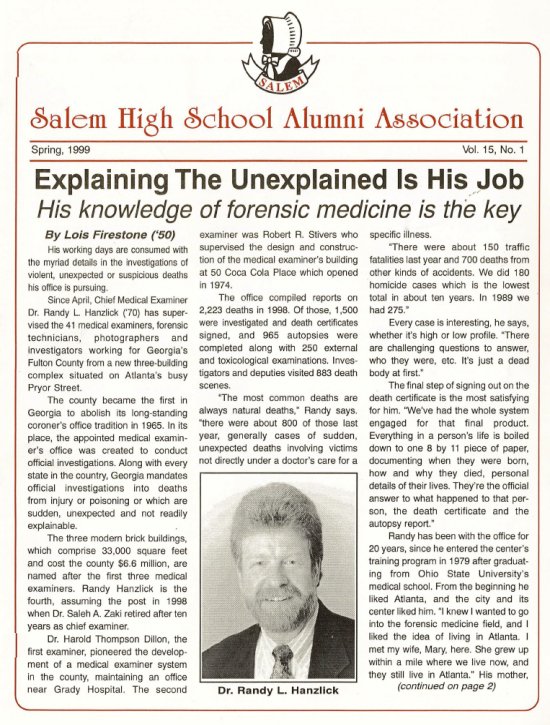 Spring 1999 (15:1)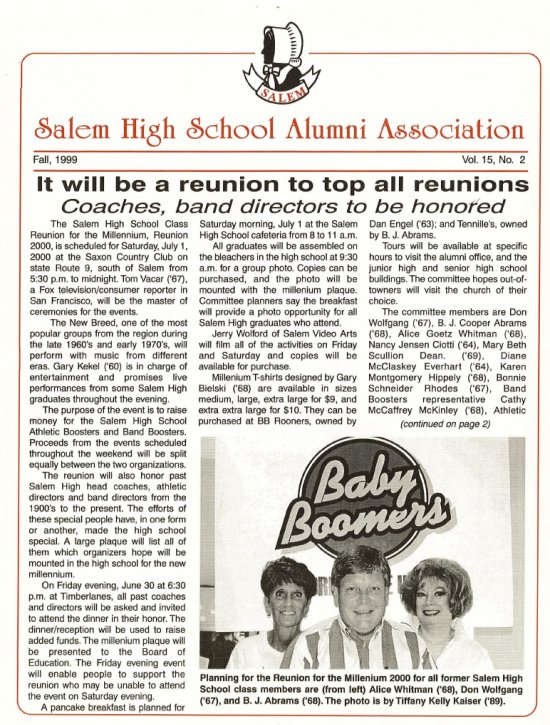 Fall 1999 (15:2)
Spring 1998 (14:1)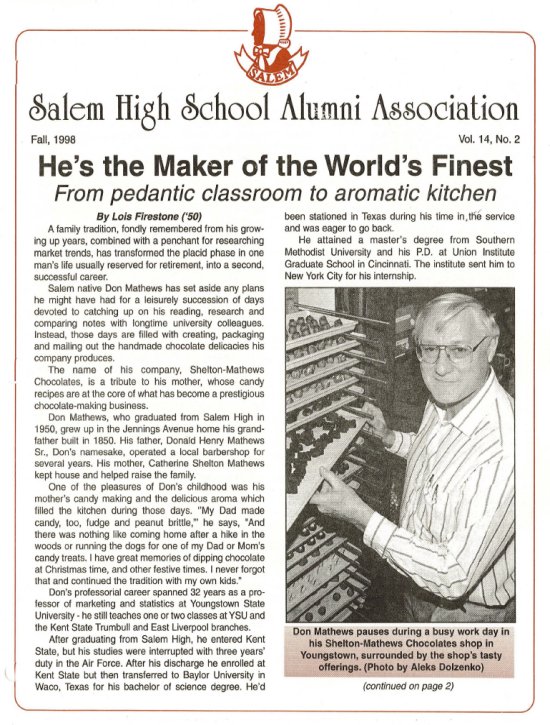 Fall 1998 (14:2)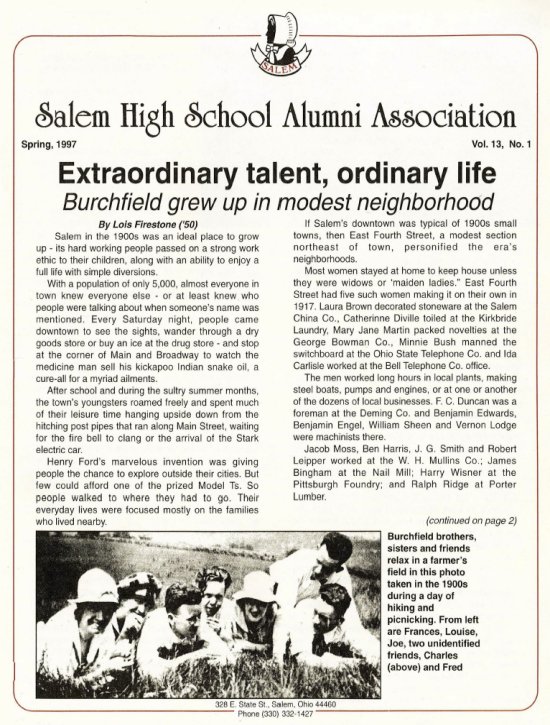 Spring 1997 (13:1)
Fall 1997 (13:2)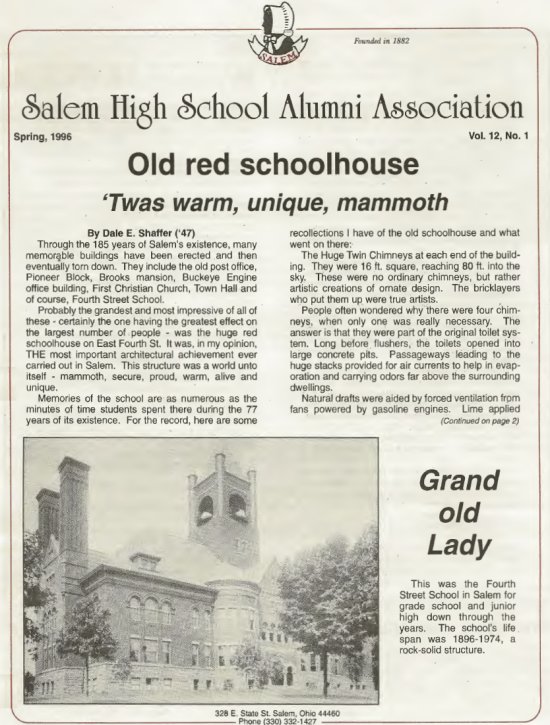 Spring 1996 (12:1)
Fall 1996 (12:2)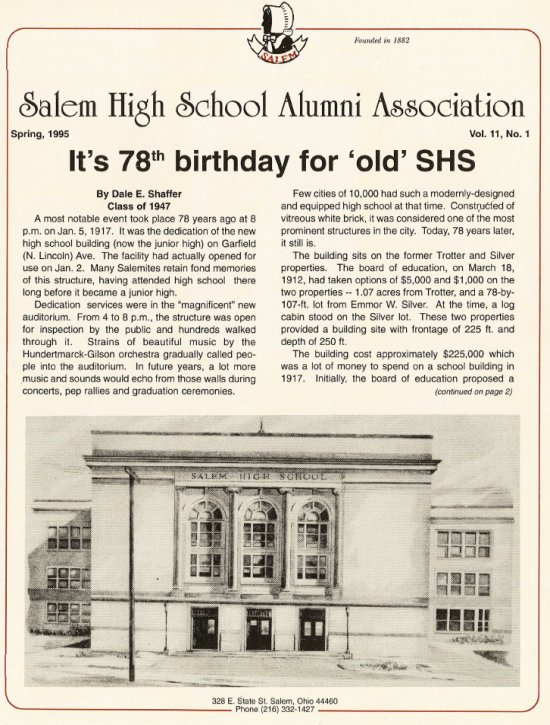 Spring 1995 (11:1)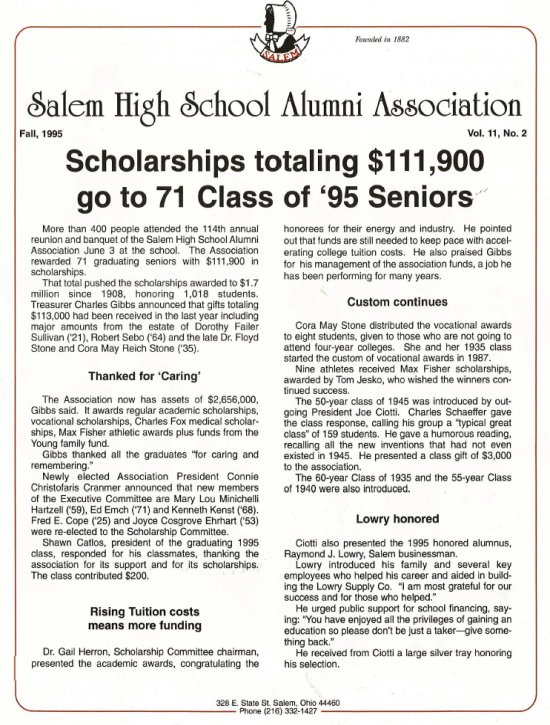 Fall 1995 (11:2)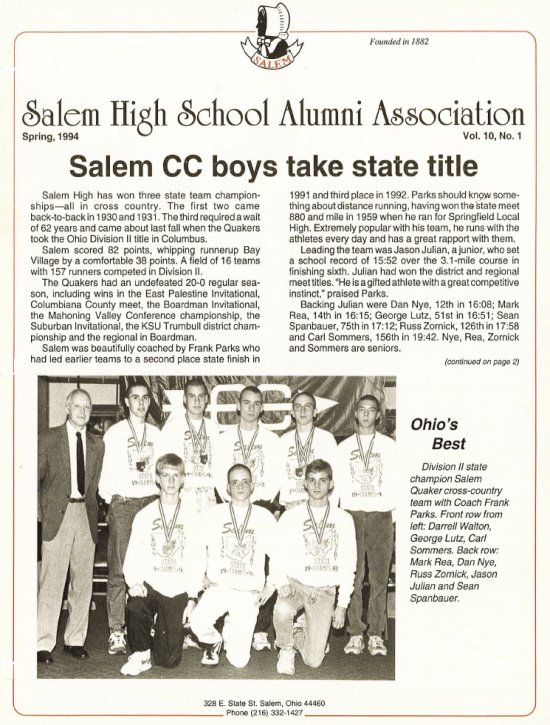 Spring 1994 (10:1)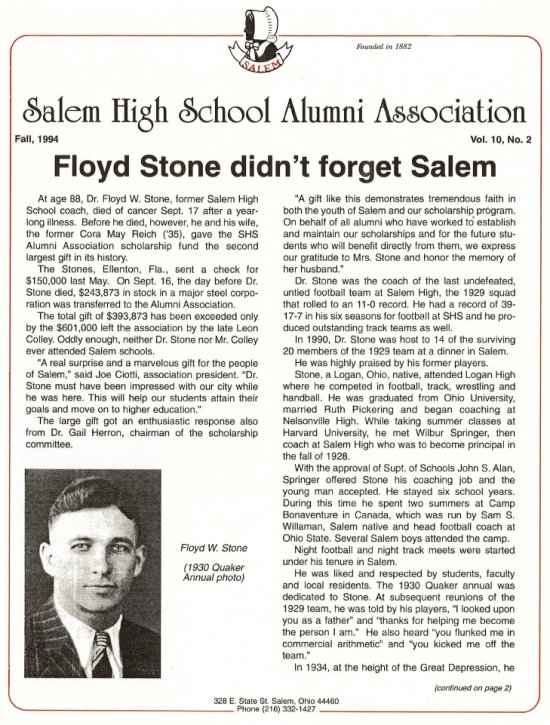 Fall 1994 (10:2)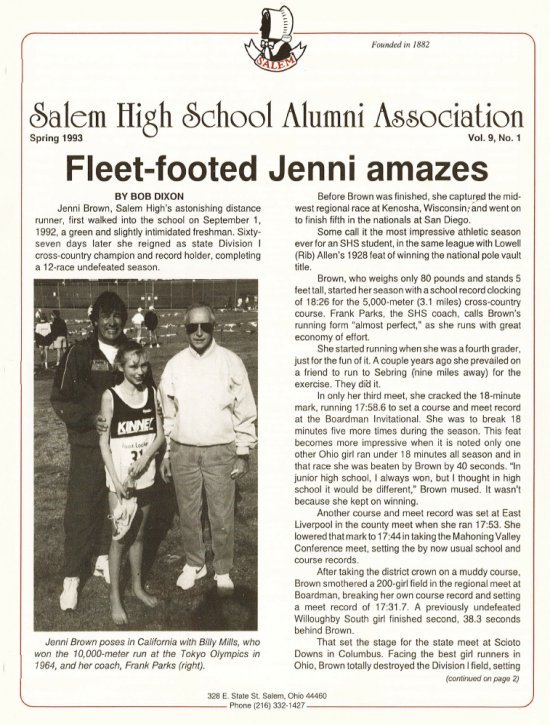 Spring 1993 (9:1)
Fall 1993 (9:2)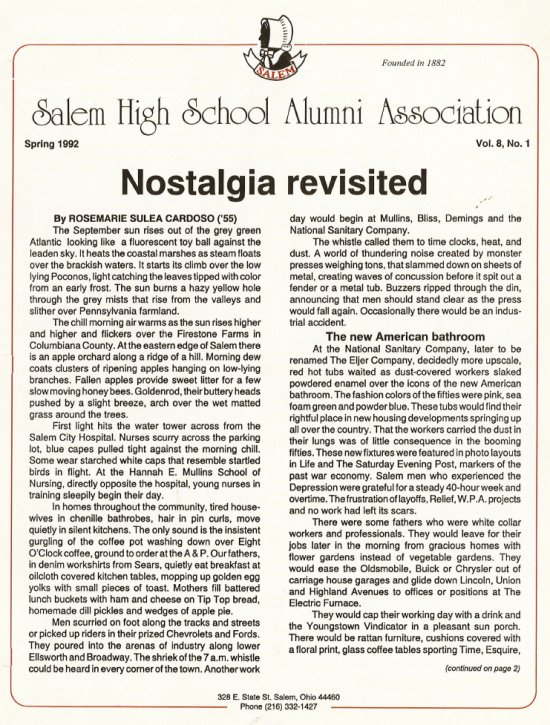 Spring 1992 (8:1)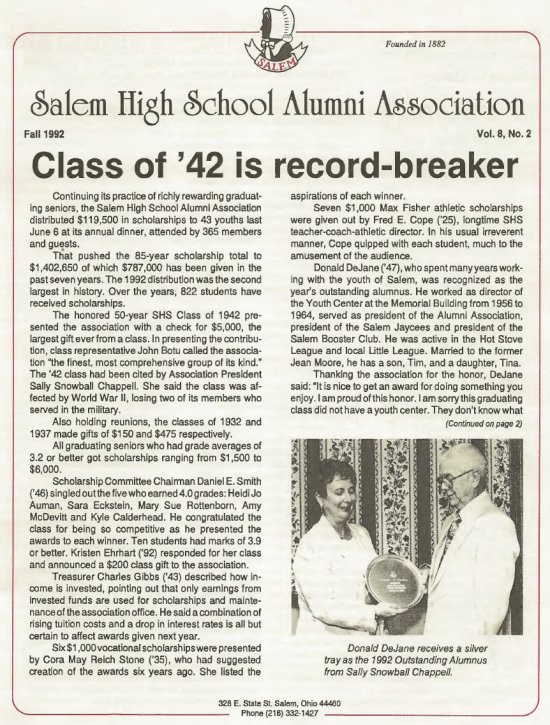 Fall 1992 (8:2)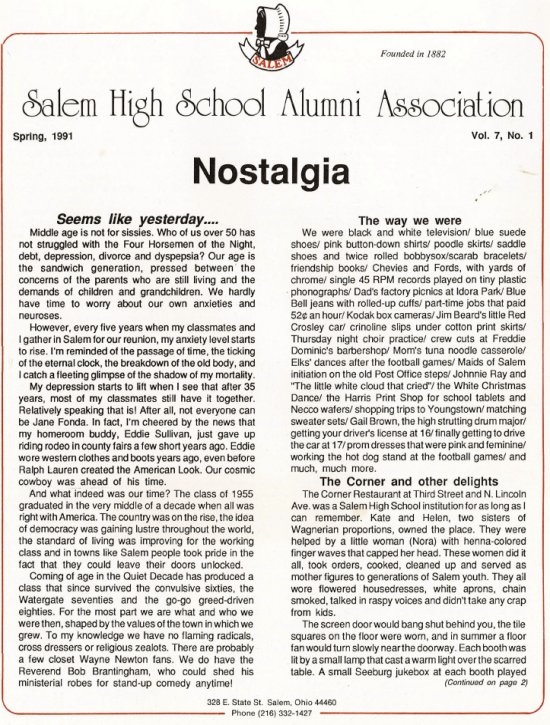 Spring 1991 (7:1)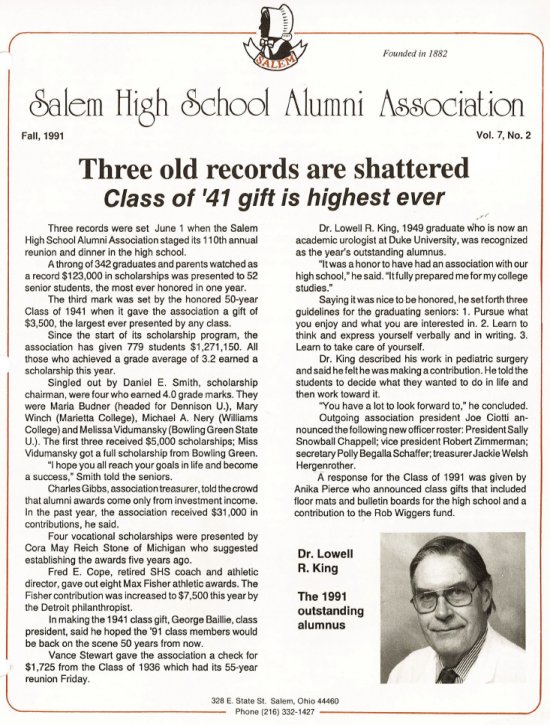 Fall 1991 (7:2)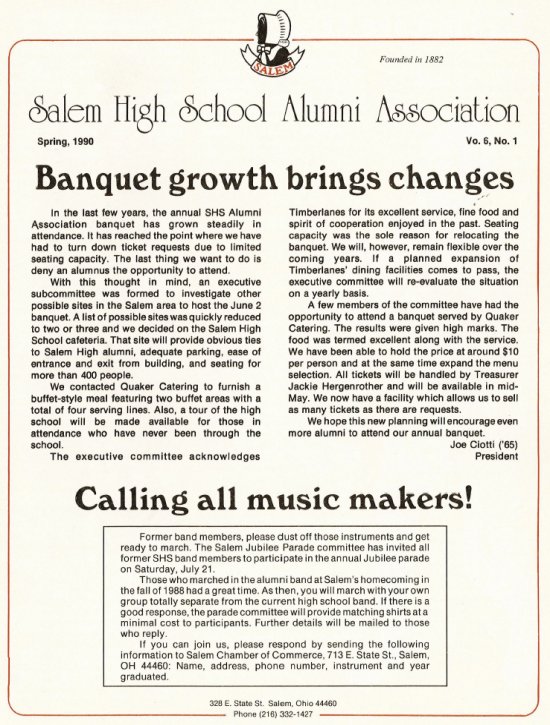 Spring 1990 (6:1)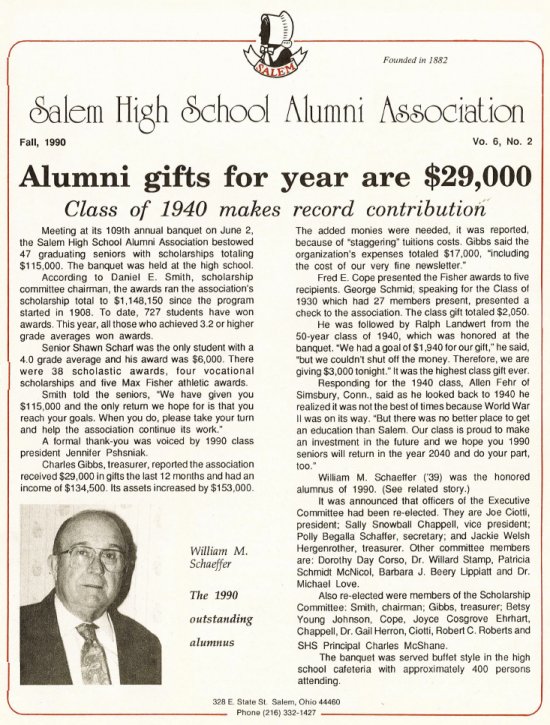 Fall 1990 (6:2)
Summer 1989 (5:1)
Spring 1988 (4:1)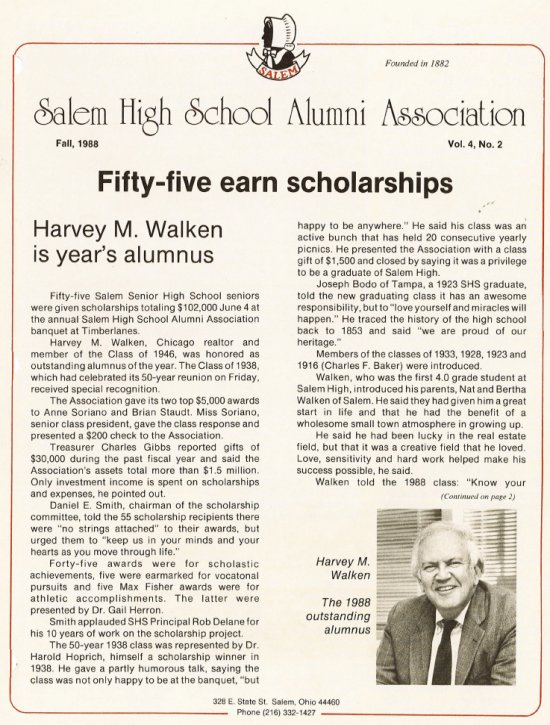 Fall 1988 (4:2)
Spring 1987 (3:1)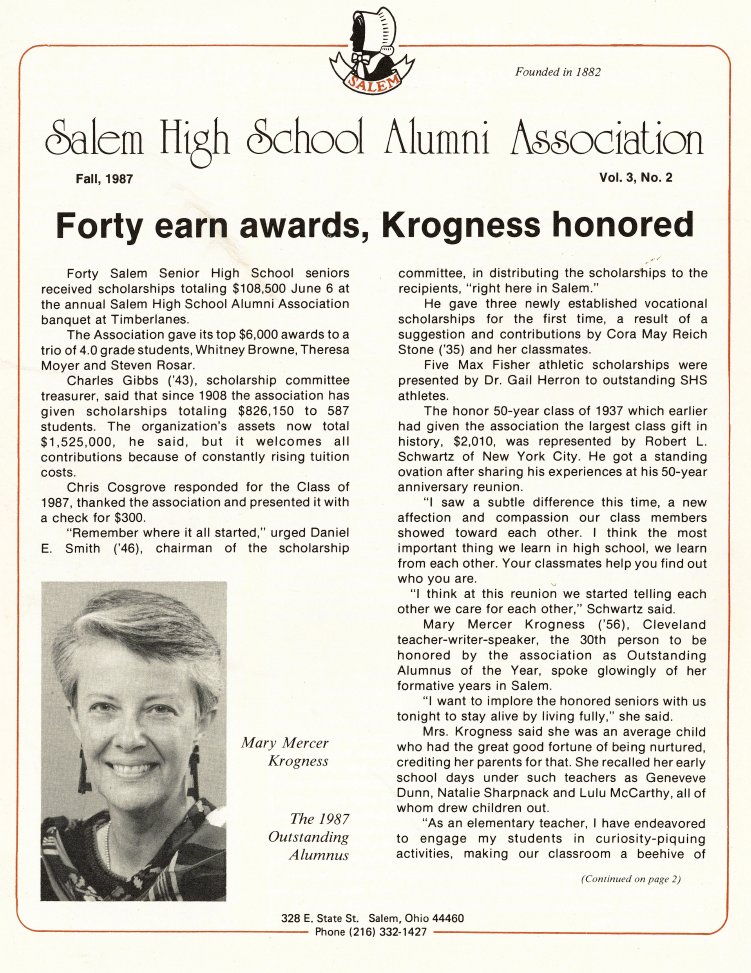 Fall 1987 (3:2)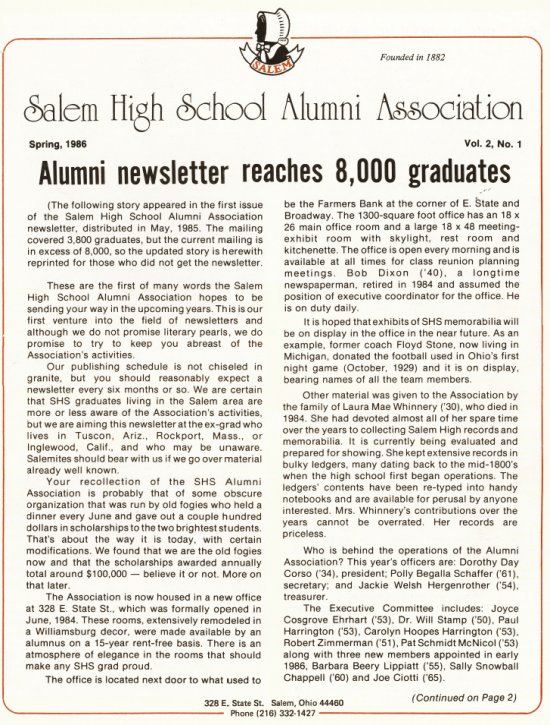 Spring 1986 (2:1)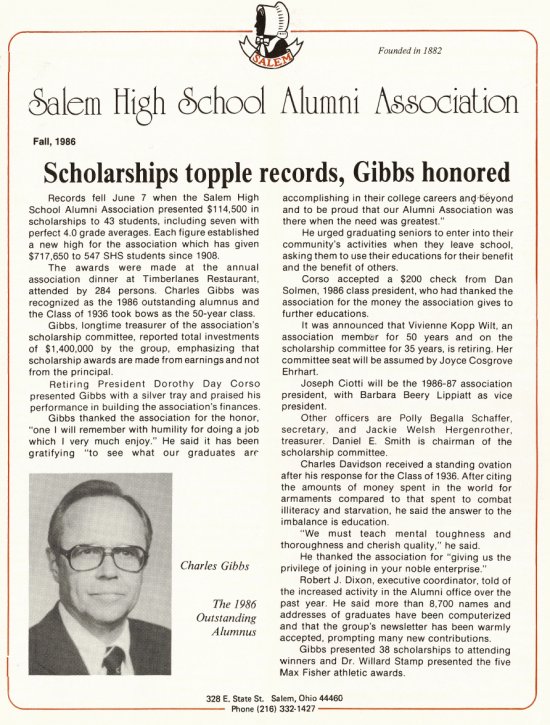 Fall 1986 (2:2)